"It's back and it's as useless as ever!"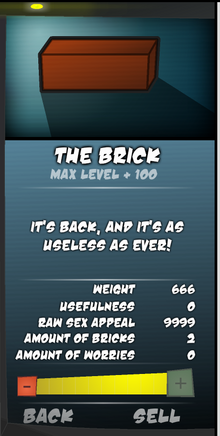 The description for The Brick
Overview
The Brick is completely useless and the only thing that changes is the weight and, 'raw sex appeal.' The Omega version of this is The Omega Brick. Base Cost: $10
Obtaining
The Brick requires the user to use the code "ThisIsAnAwesomeCode" in the back section of the Black Market.
| Level | Weight | Usefulness | Raw Sex Appeal | Amount of Bricks | Amount of Worries |
| --- | --- | --- | --- | --- | --- |
| 1 | 1 | 0 Fixed | 1 | 2 | 0 |
| 2 | 2 | | 26 | | |
| 3 | 4 | | 51 | | |
| 4 | 6 | | 75.9 | | |
| 5 | 8 | | 101 | | |
| 6 | 10 | | 126 | | |
| 7 | 12 | | 151 | | |
| 8 | 14 | | 176 | | |
| 9 | 16 | | 201 | | |
| 10 | 18 | | 226 | | |
| Max | 20 | | 251 | | |
| Max +1 | 21 | | 276 | | |
| Max +2 | 22 | | 301 | | |
| Max +3 | 23 | | 326 | | |
| Max +4 | 24 | | 351 | | |
| Max +5 | 25 | | 376 | | |
| Max +6 | 26 | | 401 | | |
| Max +7 | 27 | | 426 | | |
| Max +8 | 28 | | 451 | | |
| Max +9 | 29 | | 476 | | |
| Max +10 | 30 | | 501 | | |
| Max +11 | 31 | | 525 | | |
| Max +12 | 32 | | 550 | | |
| Max +13 | 33 | | 575 | | |
| Max +14 | 34 | | 600 | | |
| Max +15 | 35 | | 625 | | |
| Max +16 | 36 | | 650 | | |
| Max +17 | 37 | | 675 | | |
| Max +18 | 38 | | 700 | | |
| Max +19 | 39 | | 725 | | |
| Max +20 | 40 | | 750 | | |
| Max +21 | 41 | | 775 | | |
| Max +22 | 42 | | 800 | | |
| Max +23 | 43 | | 825 | | |
| Max +24 | 44 | | 850 | | |
| Max +25 | 45 | | 875 | | |
| Max +26 | 46 | | 900 | | |
| Max +27 | 47 | | 925 | | |
| Max +28 | 48 | | 950 | | |
| Max +29 | 49 | | 975 | | |
| Max +30 | 50 | | 1000 | | |
| Max +100 | 666 | | 9999 | | |