"Pretty sure NASA still hasn't thought about steam power."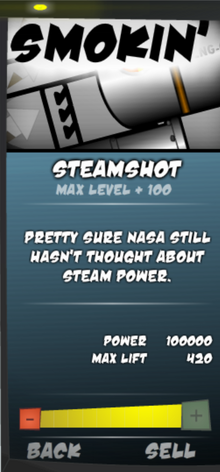 The description of the Steamshot.
Overview
The Steamshot is quite a useful launcher as it is powerful for its cost, even exceeding the power of the Nuclear Reactor and the Big Bertha in later levels. Its launch sequence requires the player to touch a key based on the position of a dial on the launcher. (Red area is most powerful.) Based on how well they do this, the launcher will become more or less powerful. Base Cost: $1600.
Obtaining
The Steamshot is obtainable from a card pack.
| Level | Power | Max Lift |
| --- | --- | --- |
| 1 | 1900 | 40 |
| 2 | 2790 | 45.5 |
| 3 | 3944 | 51 |
| 4 | 5225 | 56.5 |
| 5 | 6596 | 62 |
| 6 | 8037 | 675 |
| 7 | 9538 | 73 |
| 8 | 11090 | 78.5 |
| 9 | 12688 | 84 |
| 10 | 14325 | 89.5 |
| Max | 16000 | 95 |
| Max+1 | 17000 | 98.8 |
| Max+2 | 18000 | 103 |
| Max+3 | 19000 | 107 |
| Max+4 | 20000 | 110 |
| Max+5 | 21000 | 114 |
| Max+6 | 22000 | 118 |
| Max+7 | 23000 | 122 |
| Max+8 | 24000 | 126 |
| Max+9 | 25000 | 130 |
| Max+10 | 26000 | 133 |
| Max+11 | 27000 | 137 |
| Max+12 | 28000 | 141 |
| Max+13 | 29000 | 145 |
| Max+14 | 33000 | 149 |
| Max+15 | 37000 | 153 |
| Max+16 | 38000 | 156 |
| Max+17 | 39000 | 160 |
| Max+18 | 40000 | 164 |
| Max+19 | 41000 | 168 |
| Max+20 | 42000 | 172 |
| Max+21 | 43000 | 176 |
| Max+22 | 44000 | 179 |
| Max+23 | 45000 | 183 |
| Max+24 | 46000 | 187 |
| Max+25 | 47000 | 191 |
| Max+26 | 48000 | 195 |
| Max+27 | 49000 | 199 |
| Max+28 | 50000 | 202 |
| Max+29 | 51000 | 206 |
| Max+30 | 52000 | 210 |
| Max+100 | 100000 | 420 |