"All in one big blast!"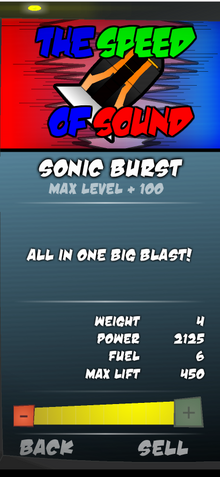 The description for the Sonic Burst.
Overview
The Sonic Burst, like the description says, releases all its energy in one huge blast. It is good for use at the height cap if you intend to break the moon. It is also good for your very first story mode completion, as the shuttle reactor is not great to start... Base Cost: $400
Obtaining
The Sonic Burst is part of the Starter Set.
| Level | Weight | Power | Fuel | Max Lift |
| --- | --- | --- | --- | --- |
| 1 | 4 Fixed | 54.2 | 6 Fixed | 30 |
| 2 | | 64.1 | | 33 |
| 3 | | 84.3 | | 36 |
| 4 | | 112 | | 39 |
| 5 | | 146 | | 42 |
| 6 | | 185 | | 45 |
| 7 | | 229 | | 48 |
| 8 | | 278 | | 51 |
| 9 | | 331 | | 54 |
| 10 | | 389 | | 57 |
| Max | | 450 | | 60 |
| Max +1 | | 468 | | 64.7 |
| Max +2 | | 486 | | 69.3 |
| Max +3 | | 504 | | 74 |
| Max +4 | | 522 | | 78.7 |
| Max +5 | | 540 | | 83.3 |
| Max +6 | | 558 | | 88 |
| Max +7 | | 576 | | 92.7 |
| Max +8 | | 594 | | 97.3 |
| Max +9 | | 613 | | 102 |
| Max +10 | | 631 | | 107 |
| Max +11 | | 649 | | 111 |
| Max +12 | | 667 | | 116 |
| Max +13 | | 685 | | 121 |
| Max +14 | | 703 | | 125 |
| Max +15 | | 721 | | 130 |
| Max +16 | | 739 | | 135 |
| Max +17 | | 757 | | 139 |
| Max +18 | | 775 | | 144 |
| Max +19 | | 793 | | 149 |
| Max +20 | | 811 | | 153 |
| Max +21 | | 829 | | 158 |
| Max +22 | | 847 | | 163 |
| Max +23 | | 865 | | 167 |
| Max +24 | | 883 | | 172 |
| Max +25 | | 901 | | 177 |
| Max +26 | | 919 | | 181 |
| Max +27 | | 938 | | 186 |
| Max +28 | | 956 | | 191 |
| Max +29 | | 974 | | 195 |
| Max +30 | | 992 | | 200 |
| Max +100 | | 2125 | | 450 |