"Harness the power of rubber bands."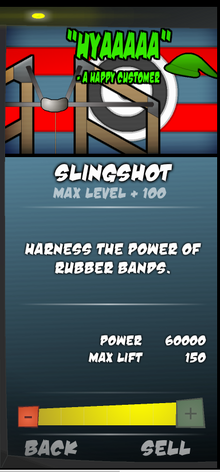 The description of the Slingshot.
Overview
The Slingshot is a body that is available from the beginning. It is very similar to the Coil, only it has an active launch sequence and can totally fail. Just hold down any key and release before the bands turn red. Base Cost: $40.
| Level | Power | Max Lift |
| --- | --- | --- |
| 1 | 450 | 15 |
| 2 | 542 | 17.5 |
| 3 | 633 | 20 |
| 4 | 725 | 22.5 |
| 5 | 817 | 25 |
| 6 | 908 | 27.5 |
| Max | 1000 | 30 |
| Max+1 | 1733 | 31.3 |
| Max+2 | 2467 | 32.7 |
| Max+3 | 3200 | 34 |
| Max+4 | 3933 | 35.3 |
| Max+5 | 4667 | 36.7 |
| Max+6 | 5400 | 38 |
| Max+7 | 6133 | 39.3 |
| Max+8 | 6867 | 40.7 |
| Max+9 | 7600 | 42 |
| Max+10 | 8333 | 43.3 |
| Max+11 | 9067 | 44.7 |
| Max+12 | 9800 | 46 |
| Max+13 | 10533 | 47.3 |
| Max+14 | 11267 | 48.7 |
| Max+15 | 12000 | 50 |
| Max+16 | 12733 | 51.3 |
| Max+17 | 13467 | 52.7 |
| Max+18 | 14200 | 54 |
| Max+19 | 14933 | 55.3 |
| Max+20 | 15667 | 56.7 |
| Max+21 | 16400 | 58 |
| Max+22 | 17133 | 59.3 |
| Max+23 | 17867 | 60.7 |
| Max+24 | 18600 | 62 |
| Max+25 | 19333 | 63.3 |
| Max+26 | 20067 | 64.7 |
| Max+27 | 20800 | 66 |
| Max+28 | 21533 | 67.3 |
| Max+29 | 22267 | 68.7 |
| Max+30 | 23000 | 70 |
| Max+100 | 60000 | 150 |