"A Jet engine tied to a chain. What could go wrong?"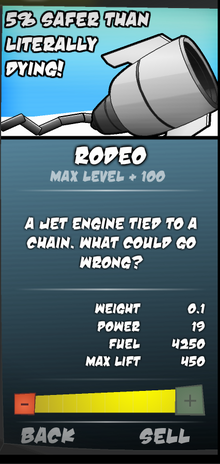 The description of the Rodeo.
Overview
The Rodeo is a stage that flies off wherever it desires, regardless of steering. Pretty strong, but better hope it takes you where you need to be...
Obtaining
The Rodeo is a supporter-exclusive stage. Alternatively, one could use the Debug Menu while it was still around.
| Level | Weight | Power | Fuel | Max Lift |
| --- | --- | --- | --- | --- |
| 1 | 0.1 Fixed | 7 | 425 | 40 |
| 2 | | 7.4 | 503 | 43.3 |
| 3 | | 7.8 | 580 | 47 |
| 4 | | 8.2 | 658 | 50.5 |
| 5 | | 8.6 | 735 | 54 |
| 6 | | 9 | 813 | 57.5 |
| 7 | | 9.4 | 890 | 61 |
| 8 | | 9.8 | 968 | 64.5 |
| 9 | | 10.2 | 1045 | 68 |
| 10 | | 10.6 | 1123 | 71.5 |
| Max | | 11 | 1200 | 75 |
| Max +1 | | 11.2 | 1248 | 77.5 |
| Max +2 | | 11.4 | 1297 | 80 |
| Max +3 | | 11.6 | 1345 | 82.5 |
| Max +4 | | 11.8 | 1393 | 85 |
| Max +5 | | 12 | 1442 | 87.5 |
| Max +6 | | 12.2 | 1490 | 90 |
| Max +7 | | 12.4 | 1538 | 92.5 |
| Max +8 | | 12.6 | 1587 | 95 |
| Max +9 | | 12.8 | 1635 | 97.5 |
| Max +10 | | 13 | 1683 | 100 |
| Max +11 | | 13.2 | 1732 | 103 |
| Max +12 | | 13.4 | 1780 | 105 |
| Max +13 | | 13.6 | 1828 | 108 |
| Max +14 | | 13.8 | 1877 | 110 |
| Max +15 | | 14 | 1925 | 113 |
| Max +16 | | 14.2 | 1973 | 115 |
| Max +17 | | 14.4 | 2022 | 118 |
| Max +18 | | 14.6 | 2070 | 120 |
| Max +19 | | 14.8 | 2118 | 123 |
| Max +20 | | 15 | 2167 | 125 |
| Max +21 | | 15.2 | 2215 | 128 |
| Max +22 | | 15.4 | 2263 | 130 |
| Max +23 | | 15.6 | 2312 | 133 |
| Max +24 | | 15.8 | 2360 | 135 |
| Max +25 | | 16 | 2408 | 138 |
| Max +26 | | 16.2 | 2457 | 140 |
| Max +27 | | 16.4 | 2505 | 143 |
| Max +28 | | 16.6 | 2553 | 145 |
| Max +29 | | 16.8 | 2602 | 148 |
| Max +30 | | 17 | 2650 | 150 |
| Max +100 | | 19 | 4250 | 450 |