"Rocket Propelled Goodies, at least that's what we think it means."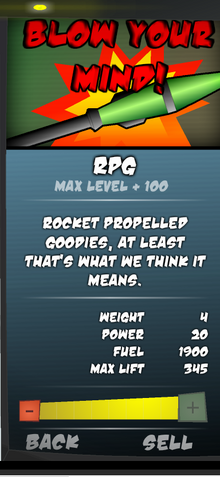 The description for the RPG.
Overview
The RPG is a weak and short-lived, but quite fast stage. The one bonus addition is that when running out of fuel, the RPG will explode, giving the player extra altitude. (The Blast Force multiplies quickly).
Obtaining
The RPG is part of the Starter Set.
| Level | Weight | Power | Fuel | Max Lift |
| --- | --- | --- | --- | --- |
| 1 | 4 Fixed | 4 | 180 | 20 |
| 2 | | 4.19 | 239 | 23.1 |
| 3 | | 4.38 | 298 | 26.3 |
| 4 | | 4.56 | 356 | 29.4 |
| 5 | | 4.75 | 415 | 32.5 |
| 6 | | 4.94 | 474 | 35.6 |
| 7 | | 5.13 | 533 | 38.8 |
| 8 | | 5.31 | 591 | 41.9 |
| Max | | 5.5 | 650 | 45 |
| Max +1 | | 5.58 | 660 | 46.7 |
| Max +2 | | 5.67 | 670 | 48.3 |
| Max +3 | | 5.75 | 680 | 50 |
| Max +4 | | 5.83 | 690 | 51.7 |
| Max +5 | | 5.92 | 700 | 53.3 |
| Max +6 | | 6 | 710 | 55 |
| Max +7 | | 6.08 | 720 | 56.7 |
| Max +8 | | 6.17 | 730 | 58.3 |
| Max +9 | | 6.25 | 740 | 60 |
| Max +10 | | 6.33 | 750 | 61.7 |
| Max +11 | | 6.42 | 760 | 63.3 |
| Max +12 | | 6.5 | 770 | 65 |
| Max +13 | | 6.58 | 780 | 66.7 |
| Max +14 | | 6.67 | 790 | 68.3 |
| Max +15 | | 6.75 | 800 | 70 |
| Max +16 | | 6.83 | 810 | 71.7 |
| Max +17 | | 6.92 | 820 | 73.3 |
| Max +18 | | 7 | 830 | 75 |
| Max +19 | | 7.08 | 840 | 76.7 |
| Max +20 | | 7.17 | 850 | 78.3 |
| Max +21 | | 7.25 | 860 | 80 |
| Max +22 | | 7.33 | 870 | 81.7 |
| Max +23 | | 7.42 | 880 | 83.3 |
| Max +24 | | 7.5 | 890 | 85 |
| Max +25 | | 7.58 | 900 | 86.7 |
| Max +26 | | 7.67 | 910 | 88.3 |
| Max +27 | | 7.75 | 920 | 90 |
| Max +28 | | 7.83 | 930 | 91.7 |
| Max +29 | | 7.92 | 940 | 93.3 |
| Max +30 | | 8 | 950 | 95 |
| Max +100 | | 20 | 1900 | 345 |