"Requires a bit of speed to work at 100%."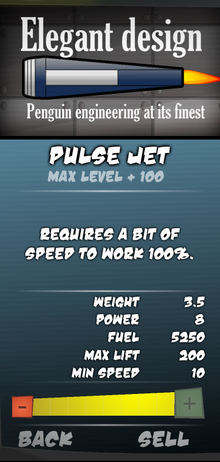 The description of the Pulse Jet.
Overview
Like the description says, the pulse jet requires some speed to work at full power, like the Ram Jet, though it is not nearly as severely affected. Due to this, it is not recommended that a beginner use this stage, as it is relatively weak. Base Cost: $400
Obtaining
The Pulse Jet is part of the Starter Set.
| Level | Weight | Power | Fuel | Max Lift | Min. Speed |
| --- | --- | --- | --- | --- | --- |
| 1 | 3.5 Fixed | 1.75 | 800 | 15 | 10 Fixed |
| 2 | | 1.85 | 881 | 18.8 | |
| 3 | | 1.99 | 963 | 22.5 | |
| 4 | | 2.14 | 1044 | 26.3 | |
| 5 | | 2.29 | 1125 | 30 | |
| 6 | | 2.46 | 1206 | 33.8 | |
| 7 | | 2.64 | 1288 | 37.5 | |
| 8 | | 2.81 | 1369 | 41.3 | |
| Max | | 3 | 1450 | 45 | |
| Max +1 | | 3.03 | 1477 | 46.8 | |
| Max +2 | | 3.08 | 1503 | 48.7 | |
| Max +3 | | 3.13 | 1530 | 50.5 | |
| Max +4 | | 3.18 | 1577 | 52.3 | |
| Max +5 | | 3.23 | 1583 | 54.2 | |
| Max +6 | | 3.29 | 1610 | 56 | |
| Max +7 | | 3.35 | 1637 | 57.8 | |
| Max +8 | | 3.41 | 1663 | 59.7 | |
| Max +9 | | 3.47 | 1690 | 61.5 | |
| Max +10 | | 3.54 | 1717 | 63.3 | |
| Max +11 | | 3.6 | 1743 | 65.2 | |
| Max +12 | | 3.67 | 1770 | 67 | |
| Max +13 | | 3.73 | 1797 | 68.8 | |
| Max +14 | | 3.8 | 1823 | 70.7 | |
| Max +15 | | 3.87 | 1850 | 72.5 | |
| Max +16 | | 3.94 | 1877 | 74.3 | |
| Max +17 | | 4.01 | 1903 | 76.2 | |
| Max +18 | | 4.08 | 1930 | 78 | |
| Max +19 | | 4.16 | 1957 | 79.8 | |
| Max +20 | | 4.23 | 1983 | 81.7 | |
| Max +21 | | 4.3 | 2010 | 83.5 | |
| Max +22 | | 4.38 | 2037 | 85.3 | |
| Max +23 | | 4.45 | 2063 | 87.2 | |
| Max +24 | | 4.53 | 2090 | 89 | |
| Max +25 | | 4.61 | 2117 | 90.8 | |
| Max +26 | | 4.68 | 2143 | 92.7 | |
| Max +27 | | 4.76 | 2170 | 94.5 | |
| Max +28 | | 4.84 | 2197 | 96.3 | |
| Max +29 | | 4.92 | 2223 | 98.2 | |
| Max +30 | | 5 | 2250 | 100 | |
| Max +100 | | 8 | 5250 | 200 | |