"Starts slow but last longer!"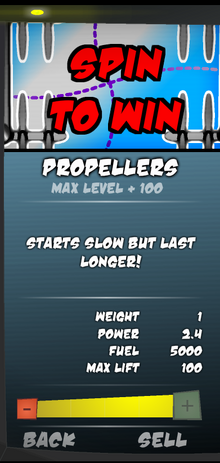 The description for the Propellers.
Overview
The Propellers are a weak but long lasting boost which is similar to the RC Helicopter although with a lower power rating and double the weight. Due to the low power it is highly recommended to be at least a bit below the max lift or it won't continue rising. Base Cost: $50
Obtaining
The Propellers are obtained through a Booster Pack.
| Level | Weight | Power | Fuel | Max Lift |
| --- | --- | --- | --- | --- |
| 1 | 1 - Fixed | 0.8 | 600 | 10 |
| 2 | | 0.83 | 700 | 10 |
| 3 | | 0.85 | 800 | 10 |
| 4 | | 0.88 | 900 | 10 |
| Max | | 0.9 | 1000 | 10 |
| Max +1 | | 0.92 | 1060 | 10.7 |
| Max +2 | | 0.93 | 1120 | 11.3 |
| Max +3 | | 0.95 | 1180 | 12 |
| Max +4 | | 0.97 | 1240 | 12.7 |
| Max +5 | | 0.98 | 1300 | 13.3 |
| Max +6 | | 1 | 1360 | 14 |
| Max +7 | | 1.02 | 1420 | 14.7 |
| Max +8 | | 1.03 | 1480 | 15.3 |
| Max +9 | | 1.05 | 1540 | 16 |
| Max +10 | | 1.07 | 1600 | 16.7 |
| Max +11 | | 1.08 | 1660 | 17.3 |
| Max +12 | | 1.1 | 1720 | 18 |
| Max +13 | | 1.12 | 1780 | 18.7 |
| Max +14 | | 1.13 | 1840 | 19.3 |
| Max +15 | | 1.15 | 1900 | 20 |
| Max +16 | | 1.17 | 1960 | 20.7 |
| Max +17 | | 1.18 | 2020 | 21.3 |
| Max +18 | | 1.2 | 2080 | 22 |
| Max +19 | | 1.22 | 2140 | 22.7 |
| Max +20 | | 1.23 | 2200 | 23.3 |
| Max +21 | | 1.25 | 2260 | 24 |
| Max +22 | | 1.27 | 2320 | 24.7 |
| Max +23 | | 1.28 | 2380 | 25.3 |
| Max +24 | | 1.3 | 2440 | 26 |
| Max +25 | | 1.32 | 2500 | 26.7 |
| Max +26 | | 1.33 | 2560 | 27.3 |
| Max +27 | | 1.35 | 2620 | 28 |
| Max +28 | | 1.37 | 2680 | 28.7 |
| Max +29 | | 1.38 | 2740 | 29.3 |
| Max +30 | | 1.4 | 2800 | 30 |
| Max +100 | | 2.4 | 5000 | 100 |