"Put a little too much and..."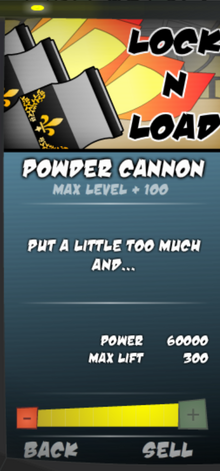 The description of the Powder Cannon.
Overview
A launcher requiring the player to fill with powder based on the signal being given by the penguin in the launch sequence. Otherwise not far from ordinary. Base Cost: $1000.
Obtaining
The Powder Cannon comes as part of the base set.
| Level | Power | Max Lift |
| --- | --- | --- |
| 1 | 1200 | 15 |
| 2 | 1913 | 19.5 |
| 3 | 2838 | 24 |
| 4 | 3865 | 28.5 |
| 5 | 4963 | 33 |
| 6 | 6119 | 37.5 |
| 7 | 7322 | 42 |
| 8 | 8565 | 51 |
| 9 | 9845 | 51 |
| 10 | 11158 | 55.5 |
| Max | 12500 | 60 |
| Max+1 | 13167 | 62.3 |
| Max+2 | 13833 | 64.7 |
| Max+3 | 14500 | 67 |
| Max+4 | 15167 | 69.3 |
| Max+5 | 15833 | 71.7 |
| Max+6 | 16500 | 74 |
| Max+7 | 17167 | 76.3 |
| Max+8 | 17833 | 78.7 |
| Max+9 | 18500 | 81 |
| Max+10 | 19167 | 83.3 |
| Max+11 | 19833 | 85.7 |
| Max+12 | 20500 | 88 |
| Max+13 | 21167 | 90.3 |
| Max+14 | 21833 | 92.7 |
| Max+15 | 22500 | 95 |
| Max+16 | 23167 | 97.3 |
| Max+17 | 23833 | 99.7 |
| Max+18 | 24500 | 102 |
| Max+19 | 25167 | 104 |
| Max+20 | 25833 | 107 |
| Max+21 | 26500 | 109 |
| Max+22 | 27167 | 111 |
| Max+23 | 27833 | 114 |
| Max+24 | 28500 | 116 |
| Max+25 | 29167 | 118 |
| Max+26 | 29833 | 121 |
| Max+27 | 30500 | 123 |
| Max+28 | 31167 | 125 |
| Max+29 | 31833 | 128 |
| Max+30 | 32500 | 130 |
| Max+100 | 60000 | 300 |