"Throwing grenades at our feet. I mean why didn't we figure this out sooner?"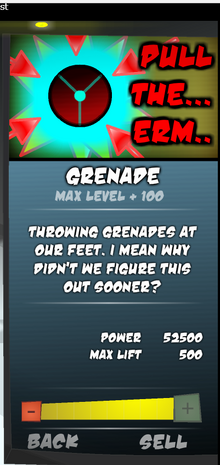 The description of the Grenade.
Overview
The grenade is a launcher with an active launch sequence. This will require the user input to make the launcher work as efficiently as possible. The grenade works with directional launching. It will always launch at full power, but the player will need to click once to initiate the launch and one more time to cause the penguin picture to throw the grenade and let it explode. This must be done as close to the green zone of the meter as possible. The Base cost is $280.
| Level | Power | Max Lift |
| --- | --- | --- |
| 1 | 720 | 30 |
| 2 | 1005 | 33.1 |
| 3 | 1290 | 36.3 |
| 4 | 1575 | 39.4 |
| 5 | 1860 | 42.5 |
| 6 | 2145 | 45.6 |
| 7 | 2430 | 48.8 |
| 8 | 2715 | 51.9 |
| Max | 3000 | 55 |
| Max+1 | 3783 | 57.3 |
| Max+2 | 4567 | 59.7 |
| Max+3 | 5350 | 62 |
| Max+4 | 6133 | 64.3 |
| Max+5 | 6917 | 66.7 |
| Max+6 | 7700 | 69 |
| Max+7 | 8483 | 71.3 |
| Max+8 | 9267 | 73.7 |
| Max+9 | 10050 | 76 |
| Max+10 | 10833 | 78.3 |
| Max+11 | 11617 | 80.7 |
| Max+12 | 12400 | 83 |
| Max+13 | 13183 | 85.3 |
| Max+14 | 13967 | 87.7 |
| Max+15 | 14750 | 90 |
| Max+16 | 15533 | 92.3 |
| Max+17 | 16317 | 94.7 |
| Max+18 | 17100 | 97 |
| Max+19 | 17883 | 99.3 |
| Max+20 | 18667 | 102 |
| Max+21 | 19450 | 104 |
| Max+22 | 20233 | 106 |
| Max+23 | 21017 | 109 |
| Max+24 | 21800 | 111 |
| Max+25 | 22583 | 113 |
| Max+26 | 23367 | 116 |
| Max+27 | 24150 | 118 |
| Max+28 | 24933 | 120 |
| Max+29 | 25717 | 123 |
| Max+30 | 26500 | 125 |
| Max+100 | 52500 | 500 |