"A big spring. Pretty stiff, should take us to space give or take a few inches."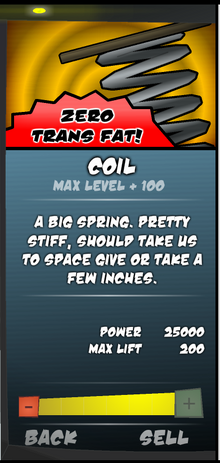 The description of the Coil.
Overview
The Coil is the first launcher of the starter set, and by far the worst one. However, its low price still makes it one of the most popular launchers in speedruns. Overall it is a pretty good launcher for its price of $10.
Changes in artwork
At level 1, the Coil is a board with a spring under it.
At level 4, the Coil's board widens, and has two springs under it instead.
At max level, the Coil is a bigger version of its level 1 self.
| Level | Power | Max Lift |
| --- | --- | --- |
| 1 | 170 | 10 |
| 2 | 208 | 10.8 |
| 3 | 247 | 11.7 |
| 4 | 285 | 12.5 |
| 5 | 323 | 13.3 |
| 6 | 362 | 14.2 |
| Max | 400 | 15 |
| Max+1 | 553 | 16.5 |
| Max+2 | 707 | 18 |
| Max+3 | 860 | 19.5 |
| Max+4 | 1013 | 21 |
| Max+5 | 1167 | 22.5 |
| Max+6 | 1320 | 24 |
| Max+7 | 1473 | 25.5 |
| Max+8 | 1627 | 27 |
| Max+9 | 1780 | 28.5 |
| Max+10 | 1933 | 30 |
| Max+11 | 2087 | 31.5 |
| Max+12 | 2240 | 33 |
| Max+13 | 2393 | 34.5 |
| Max+14 | 2547 | 36 |
| Max+15 | 2700 | 37.5 |
| Max+16 | 2853 | 39 |
| Max+17 | 3007 | 40.5 |
| Max+18 | 3160 | 42 |
| Max+19 | 3313 | 43.5 |
| Max+20 | 3467 | 45 |
| Max+21 | 3620 | 46.5 |
| Max+22 | 3773 | 48 |
| Max+23 | 3927 | 49.5 |
| Max+24 | 4080 | 51 |
| Max+25 | 4233 | 52.5 |
| Max+26 | 4387 | 54 |
| Max+27 | 4540 | 55.5 |
| Max+28 | 4693 | 57 |
| Max+29 | 4847 | 58.5 |
| Max+30 | 5000 | 60 |
| Max+100 | 25000 | 200 |