"Because it's cheaper than jet fuel!"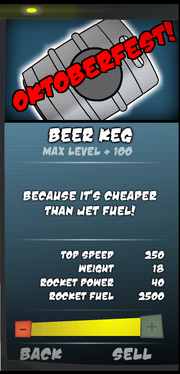 The description of the Beer Keg.
Overview
The Beer Keg has self-propulsion, as well as the ability to have stages. This is a more powerful, but shorter-lived version of the Rocket Kit.
Obtaining
The Beer Keg was a Supporter-exclusive body. Alternatively, one could use the Debug Menu while it was still around.
| Level | Top Speed | Weight | Rocket Power | Rocket Fuel | Stage Slots (hidden) | Boost Slots (hidden) |
| --- | --- | --- | --- | --- | --- | --- |
| 1 | 12 | 18 Fixed | 4 | 100 | 2 | 2 |
| 2 | 13 | | 4.13 | 138 | 2 | 2 |
| 3 | 14 | | 4.25 | 175 | 2 | 2 |
| 4 | 15 | | 4.38 | 213 | 2 | 2 |
| 5 | 16 | | 4.5 | 250 | 3 | 2 |
| 6 | 17 | | 4.63 | 288 | 3 | 2 |
| 7 | 18 | | 4.75 | 325 | 3 | 2 |
| 8 | 19 | | 4.88 | 363 | 3 | 2 |
| Max | 20 | | 5 | 400 | 3 | 3 |
| Max+1 | 20.7 | | 5.13 | 417 | 3 | 3 |
| Max+2 | 21.7 | | 5.27 | 433 | 3 | 3 |
| Max+3 | 22.8 | | 5.4 | 450 | 3 | 3 |
| Max+4 | 23.9 | | 5.53 | 467 | 3 | 3 |
| Max+5 | 25.1 | | 5.67 | 483 | 3 | 3 |
| Max+6 | 26.4 | | 5.8 | 500 | 3 | 3 |
| Max+7 | 27.7 | | 5.93 | 517 | 3 | 3 |
| Max+8 | 29 | | 6.07 | 533 | 3 | 3 |
| Max+9 | 30.4 | | 6.2 | 550 | 3 | 3 |
| Max+10 | 31.8 | | 6.33 | 567 | 3 | 3 |
| Max+11 | 33.2 | | 6.47 | 583 | 3 | 3 |
| Max+12 | 34.7 | | 6.6 | 600 | 3 | 3 |
| Max+13 | 36.1 | | 6.73 | 617 | 3 | 3 |
| Max+14 | 37.6 | | 6.87 | 633 | 3 | 3 |
| Max+15 | 39.2 | | 7 | 680 | 3 | 3 |
| Max+16 | 40.7 | | 7.13 | 667 | 3 | 3 |
| Max+17 | 42.3 | | 7.27 | 683 | 3 | 3 |
| Max+18 | 43.8 | | 7.4 | 700 | 3 | 3 |
| Max+19 | 45.4 | | 7.53 | 717 | 3 | 3 |
| Max+20 | 47 | | 7.67 | 733 | 3 | 3 |
| Max+21 | 48.7 | | 7.8 | 750 | 3 | 3 |
| Max+22 | 50.3 | | 7.93 | 767 | 3 | 3 |
| Max+23 | 52 | | 8.07 | 783 | 3 | 3 |
| Max+24 | 53.7 | | 8.2 | 800 | 3 | 3 |
| Max+25 | 55.4 | | 8.33 | 817 | 3 | 3 |
| Max+26 | 57.1 | | 8.47 | 833 | 3 | 3 |
| Max+27 | 58.8 | | 8.6 | 850 | 3 | 3 |
| Max+28 | 60.5 | | 8.73 | 867 | 3 | 3 |
| Max+29 | 62.2 | | 8.87 | 883 | 3 | 3 |
| Max+30 | 64 | | 9 | 900 | 3 | 3 |
| Max+100 | 250 | | 40 | 2500 | 4 | 4 |