"Where 1 ballon fails, 3 ballon should do the trick!"*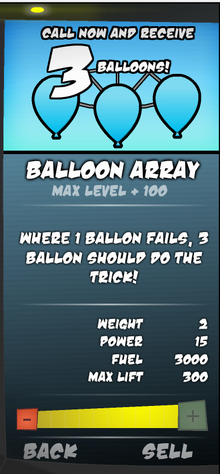 The description for the Balloon Array
*We're not sure as to why there were this many grammar errors, but we think there was a character limit.
Overview
The Balloon Array is a stage awarded exclusively to Light Bringer Games Supporters. If you succeed in getting your mitts on this stage, you will find it is a BIG step-up from the Balloon. It has significantly more power, but unfortunately has the same lack of fuel. No one cares; this is a much better buy over the Balloon. Base Cost: $15.
Obtaining
The Balloon Array is exclusive to supporters. Alternatively, one could have used the Debug Menu while it was still around.
| Level | Weight | Power | Fuel | Max Lift |
| --- | --- | --- | --- | --- |
| 1 | 2 Fixed | 2.2 | 90 | 16 |
| 2 | | 2.3 | 155 | 18 |
| 3 | | 2.4 | 220 | 20 |
| 4 | | 2.5 | 285 | 22 |
| 5 | | 2.6 | 350 | 24 |
| 6 | | 2.7 | 368 | 25.9 |
| 7 | | 2.8 | 387 | 27.7 |
| 8 | | 2.9 | 405 | 29.6 |
| 9 | | 3 | 423 | 31.5 |
| 10 | | 3.1 | 442 | 33.3 |
| Max | | 3.2 | 460 | 35.2 |
| Max+1 | | 3.24 | 478 | 37.1 |
| Max+2 | | 3.29 | 497 | 38.9 |
| Max+3 | | 3.33 | 515 | 40.8 |
| Max+4 | | 3.37 | 533 | 42.7 |
| Max+5 | | 3.42 | 552 | 44.5 |
| Max+6 | | 3.46 | 570 | 46.4 |
| Max+7 | | 3.5 | 588 | 48.3 |
| Max+8 | | 3.55 | 607 | 50.1 |
| Max+9 | | 3.59 | 625 | 52 |
| Max+10 | | 3.63 | 643 | 53.9 |
| Max+11 | | 3.68 | 662 | 55.7 |
| Max+12 | | 3.72 | 680 | 57.6 |
| Max+13 | | 3.76 | 698 | 59.5 |
| Max+14 | | 3.81 | 717 | 61.3 |
| Max+15 | | 3.85 | 735 | 63.2 |
| Max+16 | | 3.89 | 753 | 65.1 |
| Max+17 | | 3.94 | 772 | 66.9 |
| Max+18 | | 3.98 | 790 | 68.8 |
| Max+19 | | 4.02 | 808 | 70.7 |
| Max+20 | | 4.07 | 827 | 72.5 |
| Max+21 | | 4.11 | 845 | 74.4 |
| Max+22 | | 4.15 | 863 | 76.3 |
| Max+23 | | 4.2 | 882 | 78.1 |
| Max+24 | | 4.24 | 900 | 80 |
| Max+25 | | 4.28 | 928 | 83.3 |
| Max+26 | | 4.33 | 955 | 86.7 |
| Max+27 | | 4.37 | 983 | 90 |
| Max+28 | | 4.41 | 1011 | 93.3 |
| Max+29 | | 4.46 | 1038 | 96.7 |
| Max+30 | | 4.5 | 1066 | 100 |
| Max+100 | | 15 | 3000 | 300 |