"Get help from...'them'..."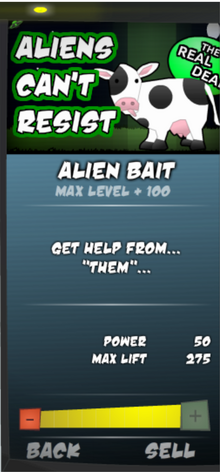 The description of the Alien Bait.
Overview
The Alien Bait has an active launch sequence that requires the player to steer the spaceship (like in normal gameplay) to stay within the beam projected by the UFO hovering above. The bait will inevitably be recognized as a fake and the beam will stop to yield to normal gameplay, but that occurence is delayed by the player staying inside the beam to the proper extent. It is a launcher meant for light ships. Base Cost: $4500.
Obtaining
The Alien Bait comes as part of the Starter Set.
| Level | Power | Max Lift |
| --- | --- | --- |
| 1 | 9 | 50 |
| 2 | 9.1 | 54 |
| 3 | 9.2 | 58 |
| 4 | 9.3 | 62 |
| 5 | 9.4 | 66 |
| 6 | 9.5 | 70 |
| 7 | 9.6 | 74 |
| 8 | 9.7 | 78 |
| 9 | 9.8 | 82 |
| 10 | 9.9 | 86 |
| Max | 10 | 90 |
| Max+1 | 10.4 | 91 |
| Max+2 | 10.8 | 92 |
| Max+3 | 11.2 | 93 |
| Max+4 | 11.6 | 94 |
| Max+5 | 12 | 95 |
| Max+6 | 12.4 | 96 |
| Max+7 | 12.8 | 97 |
| Max+8 | 13.2 | 98 |
| Max+9 | 13.6 | 99 |
| Max+10 | 14 | 100 |
| Max+11 | 14.4 | 101 |
| Max+12 | 14.8 | 102 |
| Max+13 | 15.2 | 103 |
| Max+14 | 15.6 | 104 |
| Max+15 | 16 | 105 |
| Max+16 | 16.4 | 106 |
| Max+17 | 16.8 | 107 |
| Max+18 | 17.2 | 108 |
| Max+19 | 17.6 | 109 |
| Max+20 | 18 | 110 |
| Max+21 | 18.4 | 111 |
| Max+22 | 18.8 | 112 |
| Max+23 | 19.2 | 113 |
| Max+24 | 19.6 | 114 |
| Max+25 | 20 | 115 |
| Max+26 | 20.4 | 116 |
| Max+27 | 20.8 | 117 |
| Max+28 | 21.2 | 118 |
| Max+29 | 21.6 | 119 |
| Max+30 | 22 | 120 |
| Max+100 | 50 | 275 |